Make Your Spacecraft Refuelable With RAFTI
The Industry-Standard Satellite Refueling Interface
RAFTI is an open license TRL 7 cooperative docking and refueling interface that replaces your existing fill and drain valve to enable on-orbit and ground fueling.
Trusted By:
05

US and International Government Programs

100+

Commercial Spacecraft and Counting
Why RAFTI?
Enables on-orbit refueling with built-in cooperative docking capability
Replaces your existing fill and drain valve, minimizing additional complexity and mass
Available under open license, ensuring flexibility
Adheres to international best practices set by CONFERS
Designed With Your Mission in Mind
Multiple inhibits against leaks, aligned with industry safety requirements

Supports both on-orbit and ground refueling

Supports a wide range of storable fuel types, spacecraft sizes, and propulsion systems

Alignment markers reduce complexity of proximity operations

Designed to last in GEO and beyond

Passive retractable covers protect sealing surfaces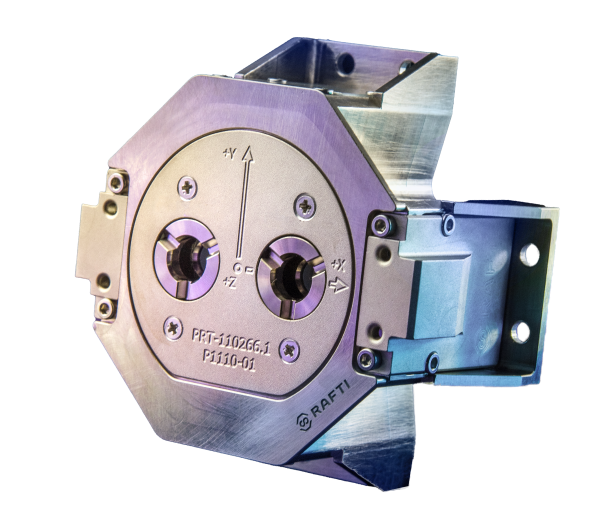 Channel Partnership Program
Our Channel Partnership Program ensures RAFTI integrates seamlessly with existing propulsion systems and bus configurations.
Client Spacecraft Requirements
Fiducials
Tracking markers enable docking
Minimum of three non-collinear fiducials, tollerant of 5 degree X and Y axis misalignment
Recommended: encircling Whycon marker and 4th fiducial increases robustness against shadows
Supported Pressure
Two valve core Class Ratings of operating pressure
Low

4.48 Mpa (650 psig) TBS

High

20.68 Mpa (3000 psig) TBS
Propene or Ethane and N2O
Integration with Propulsion Systems
A single RAFTI Service Valve (RSV) supports the transfer of two independent fluids, for example, propellant and pressurant. It can also be used in bipropellant systems.
Blowdown Mono-Prop with and without Bladder

Blowdown Mono-Prop with and without Bladder

Blowdown Mono-Prop with and without Bladder
Rapid Development, Rigorous Testing
RAFTI is designed, built, and tested to ensure the highest quality product and minimal lead times for our customers.
Pre-Launch Fueling
Use RAFTI as a fill-and-drain valve to fuel your spacecraft prior to launch with our RAFTI Ground Coupling.
Integrates with existing ground fueling infrastructure
Visual indicators allow for seamless operations
FOD mitigated with fully enclosed chassis
Flow fluid independently through each RAFTI valve core
What Could You Do With More Delta-V?
Impact

Unlock Unlimited Potential

Discover how refueling can benefit your mission and business.

Tailored Refueling Service

With your inputs, we design an optimized refueling service that maximizes the benefit to your mission.
"[RAFTI] has become the common interface for satellite fueling ports."
"An estimated ~85% of all GEO satellites are retired not from hardware failures, but because they ran out of the fuel needed to maintain their orbital slot."
"Once a satellite is launched, there is only a single tank of fuel and no opportunity for maintenance. Because of this, $100Bn worth of satellites were abandoned in the last 10 years."
"Every spacecraft that's up there right now, if you move it, you shorten its lifespan. So we are loathe to move any spacecraft out there for any reason."
"...especially satellite servicing vehicles, they really need refueling."
"If I had the ability to refuel GSSAP regularly, do you think we would operate them like we do today? We would not. We would be zipping around the globe. We'd be trying to keep a potential adversary off balance."